Murtoa is a historic lakeside town situated around the picturesque Lake Marma. It is the largest inland grain receival point in Victoria. Much of it's early history is preserved in the unique water tower museum.

Things to Do and See

Murtoa hosts an anual weekend festival called "Murtoa's Big Weekend". Details about this event may be found at www.murtoabw.wimmera.com.au.

There are several historically important buildings (c.1880) in the town. A Stick Grain Shed built during the Second World War is one of the largest surviving grain sheds in the southern hemisphere. It was built from 640 unmilled tree trunks.

A National Trust classified water tower (1886), now a museum, houses James Hill's unique taxidermy bird collection and an excellent district history display.

Murtoa boasts a huge bulk wheat storage capacity of 10 million bushels.

Other Points of Interest

Concordia Memorial Cottage is open to visitors each Sunday between 2.00p.m. and 5.00p.m. or by appointment, phone (03) 5385 2582.

Lake Marma, a scenic lake on the edge of the town, is ideal for fishing and boating and is well stocked with trout and redfin.

The Barabool Forest Reserve, 7km south of the town, blazes with wild flowers in Spring.

New Years Day Race Meeting and the Murtoa Cup in June are two highlights of the local country race calendar.

How to Get There

Murtoa is 320kms north-west of Melbourne
Melways Ref: 520 D8
Pop: 1000

Visitor Information

Marma Gully Antiques
50 Marma St,
Tel: (03) 5385 2422
or
Horsham Visitor Information Centre
20 O'Callaghan Pde, Horsham
Tel: (03) 5382 1832 Freecall 1800 633 218

Click Here to View Map

Back to Top



Lake Marma is ideal for fishing and boating.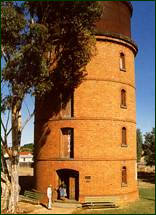 Murtoa Water Tower Museum.