Kaniva, close to both The Little Desert National Park and Big Desert Wilderness, has abundant underground water supplies that supports lush expanses of lawn, extensive flower beds and tree growth throughout the town, laying claims to Kaniva's title as Victoria's "Garden of Eden".
Underground water is the life blood of Kaniva and district and a large windmill dominates the landscape to mark the entrance to the town. Situated in the West Wimmera, Kaniva is the district centre for a large farming community, including large plantations of olive groves.

Things to Do and See

The Little Desert nearby has one of Australia's most stunning displays of wildflowers, best seen during spring and summer.

A walk around town will take you past an old fashioned store that has been trading for over 100 years and retains all the quaintness of a bygone era.

The Historical Society Museum in Commercial Street has a large collection of items of local history.

The Serviceton Railway Station (25km west of Kaniva in the township of Serviceton) is a fascinating step back into history. While not used for travellers now, the building which was completed in 1889, has dungeons below where prisoners were held overnight, while being taken from South Australia to Victoria and vice-versa.

Other Points of Interest

Stop by the Big Windmill, or take a walk along the Billy Ho Bushwalk just south of Kaniva, a 3km walk around the perimeter of this small bushland. Forty numbered pegs denote various species of desert flora.

Just north of Serviceton is the A.M.P. Land Development Scheme, Telopea Downs, 134,000 hectares (330,000 acres) of desert that has been cleared and divided into eighty-two farms.

The Big Desert beyond the development farms is hundreds of square kilometres of Mallee bush, arid and silent, yet abounding in flora and fauna.

Check out Broughton's Waterhole, a natural oasis within the Little Desert.

Visit Bleak House, the original home of author Elizabeth Lane who wrote 'Mad as Rabbits'.

Events

The Kaniva Lawn Tennis tournament- Australia Day Weekend.

How to Get There

Kaniva is 18kms east of the Victorian - South Australian border and is on the Adelaide - Melbourne rail link.
Melways Ref: 519 H7
Pop: 900, with a population of 1750 residents within the Shire of Kaniva.

Visitor Information

Kaniva Information Centre
41 Commercial St. Kaniva, Victoria. 3419
Ph: (03) 5392 2418

Click Here to View Map

Back to Top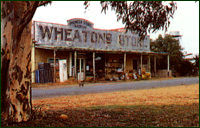 In nearby Miram, you can browse through over 100 years of history at the Wheatons Pioneer Store.