Jeparit offers an aquatic playground at the nearby Lake Hindmarsh and a journey into the past, at one of Victoria's largest treasure trove of buildings and memorabilia, the Wimmera Malle Pioneer Museum. Jeparit is the birthplace of the former Prime Minister of Australia, Sir Robert Menzies. A modern 18 metre spire with thistle atop in recognition of Sir Robert, stands in the town and is illuminated at night. Sir Robert's father, James, was a businessman in Jeparit. Young Sir Robert attended school at Jeparit and, while in the town, won a scholarship that began his legal and political career.

Things to Do and See

Victoria's largest natural freshwater lake, Lake Hindmarsh, is 6km from Jeparit township. It is 22km long and about 11km wide and provides white sandy beaches and camping spots under fringe river gums. The lake is popular for most water based sports, including fishing.

At the southern entrance to Jeparit is the Wimmera Mallee Pioneer Museum which sits on four acres of land adjacent to the Wimmera River. The museum is run by volunteers and displays historical articles and machinery of the areas past, in sixteen historic early buildings.

Other Points of Interest

Menzies Square at the corner of Charles and Roy streets is the site of the dwelling where Sir Robert Menzies was born.

"Edward John Eyre" River Walk, a 13 km Eco-Trail along the Wimmera Heritage River. Follows the route taken by the famed explorer while seeking an overland route from Melbourne to Adelaide during which he came upon and named Lake Hindmarsh after the Governor of the time.

Wimmera River Heritage

This natural waterway rises some 200km from Jeparit, high in the Grampians and along the way services the needs of many communities. It is considered of such importance it was declared a 'heritage river'. It's wetlands and many islets provide the habitat and breeding grounds of a large number of species of birdlife. The river at Jeparit is ideally suited to passive boating activities, fishing and canoeing.

How to Get There

Jeparit is approximately 400kms northwest of Melbourne
Melway Ref: 520 A6
Pop: 400

Visitor Information

Hindmarsh Shire Council
Tel: (03) 5391 1811

Wimmera-Mallee Pioneer Museum
Charles St,
Tel: (03) 5397 2101

Click Here to View Map

Back to Top



Aerial view of Jeparit.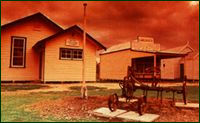 Jeparit Museum.