Horsham is situated on the banks of the beautiful Wimmera River, and is the unofficial capital and commercial centre of the Wimmera. Hosting one of the largest ranges of Service Industries to be found anywhere in Rural Australia, Horsham is centrally located to Mt Arapiles - Tooan State Park, Little Desert National Park, Black Ranges State Park and the Northern Grampians. To the south of the city, an extensive lakes and waterways system offers great fishing.

History

The town was named after Horsham in Sussex by James Darlot, commonly regarded as the founder of the Wimmera. Darlot persuaded Melbourne interests to set up a store and post office in 1849, from which grew the progressive township.

Although originally opened up for grazing purposes, the Wimmera lands became better known for wheat production, made possible by the introduction of superphosphate in 1903 and Federation wheat strain in 1904.

Local foundries sprang up to service the new industry. Land for agriculture was made available after WW1 and WW2 to returned servicemen with some farming experience. Horsham was proclaimed a town in 1932, fifty years after it's birth, and in 1949 it was declared a city.

Things to Do and See

The Wimmera Wool Factory in Horsham produces some of the finest super fine wool in Australia, selling much of it to specialised garment producers in Europe. This centre offers an excellent opportunity to witness the fruits of the regions rural sector. Organised and educational tours operate 7 days a week. Located in Golf Course Rd, there are daily tours at: 10.15am. 11.00am. 1.30pm. and 2.30pm. or by appointment.

The Horsham Regional Art Gallery houses one of the finest collections of paintings and photography to be found in rural Victoria. The collection includes significant works by Hans Heysen, George Lambert and Charles Bush as well as being the home of the famous Mack Jost Collection, housed in an elegant 1930's Art Deco building next door to the Town Hall, at 80 Wilson Street. Exhibitions change every six weeks. The Gallery is open from 10.00 a.m. to 5.00 p.m. Tuesdays to Friday and 1.00 p.m. to 4.30 p.m. Saturdays and Sundays.

The Horsham Country Golf Club situated at Haven, 5kms outside Horsham, is regarded as one of the finest and most challenging golf courses outside of Melbourne. An attractive, undulating sandbelt course, with grass greens and watered fairways, the Course was voted PGA Course of the Year in 1997, 1998 and 1999.

Other places of interest

The Botanical Gardens at the corner of Firebrace and Baker Sts' we're designed in the 1870's by the curator of the Melbourne Royal Botanical gardens, William Guilfoyle in traditional English style, but with added Australian characteristics.

Victorian Institute of Dryland Agriculture.

The Wimmera River rises in the Pyrenees Mountains near Ararat, and passes through Horsham and Dimboola, to flow into Lake Hindmarsh, near Jeparit. The river takes its name from the aboriginal word for a device for throwing spears (Woomera).

Each Labor Day long weekend (March), the Horsham Apex Fishing Contest attracts thousands of competitors who compete for major prizes. The Wimmera River and lakes system abound with fish, and have produced 4 current major inland fishing records. Fish caught include trout, Murray Cod, Golden Perch, Redfin, Blackfin and Tench. Yabbys are also prolific.

Other activities based out of Horsham include: hot-air ballooning, bushwalking, rock climbing, abseiling, orienteering, boating, canoeing, hunting, cycling, trail bike riding or four wheel driving.

Adventure Island, a childrens playground in Barnes Rd.

Horsham also boasts one of the largest regional shopping centres to be found in rural Australia.

Wimmera Regional Library has it headquarters situated in Horsham to service the vast Wimmera region.

How to Get There

Horsham is located 301km north-west of Melbourne
Melways Ref: 520 C9
Pop: 18,000

Visitor Information

Horsham Visitor Information Centre
20 O'Callaghan Pde, Horsham
Tel: (03) 5382 1832 Freecall 1800 633 218

Click Here to view Map

Back to Top


Horsham is the unofficial capital of the Wimmera, the largest grain growing
region of Victoria.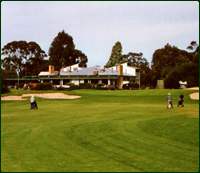 Horsham Golf Clubs has been voted PGA Course of the Year three years in a row -1997/98/99.