Ararat County Gaol (formerly "J" Ward)

Girdlestone St, Ararat
Ph: (03) 5352 3357
Open: Monday-Sat, 11.00am tour
Sunday: 11am-3pm, hourly tours
Victorian school holidays, 11am-3pm hourly tours

Opened in 1861 as a country gaol equipped with gallows, this imposing bluestone complex was taken over by the Ararat Mental Hospital as 'J Ward', to house the criminally and dangerously insane. Tours include a visit to the memorabilia collection which documents the history of penal and psychiatric reform in Ararat.

Ararat Town Hall

Corner Barkly & Vincent Sts, Ararat
Ph: (03) 5352 2181
Open: 9am-5pm, Mon-Fri

Constructed in 1898 by Ballarat architects, Smith and Molloy, the Ararat Town Hall is in the style of the traditional Roman Revival. Set within formal gardens. a fountain in memory of the Boer War was installed in 1905.

Best's Wines Vineyard

1km off Western Highway, Great Western
Ph: (03) 5356 2250
Open: 10am-5pm Monday-Sat, public holidays. 12noon-4pm on Sundays of holiday periods

Established in 1866, Best's is among Australia's oldest, family owned wineries. This wooden slab winery overlooking the old vineyard, features original hand dug cellars which continue to play an important role and original 1860's vines still thriving today.

Big Hill Pioneer Memorial

Upper Main St, Stawell
Open: Daily, all hours

The western slopes of the hill were the site of the rich quartz mines which stretched for about 2kms. The memorial was erected in 1838 to honor early residents.

Cobb & Co. Coach Station

Western Hwy, Buangor
Ph: (03) 5354 5504
Open: Daily 11am-8pm (key from Buangor Hotel, opposite)

A step back in time, the historic Cobb & Co. was built in 1869 and is one of the few still remaining from this era. The building has been restored back to it's original design.

Do See View Farm

Ph: (03) 5384 2300.
Open to the public 10am-4 pm. Mon - Sat by prior arrangement.

Do See View Farm offers demonstrations of old farming methods used by early farmers in the Wimmera region. Special features include: chaft cutter, drag saw, ploughs and Clydesdale working horses.

Ebenezer Mission

18kms North of Dimboola (towards Jeparit) - Antwerp
Ph: (03) 5382 1832
Open: Daily

Founded in 1858 by Maravian missionaries in an effort to Christianise the local Aborigines. Today it stands in ruins. It's pale pink stone buildings are surrounded by wheat fields and bush. A tiny cemetery contains graves of Mission Koories and Lutheran priests. An Antwerp Koorie, Bobby Kinnear, who won the rich Stawell Gift foot race in 1883, is buried here. His grave is marked by a Koorie monument erected in 1985 by the Goolum Goolum Aboriginal Cooperative to remember local Koories. The National Trust is currently preserving the building.

Harrow Historical Township

Blair St - Harrow
Ph: (03) 5588 1338
Open: Daily

A picturesque little town settled on the banks of the Glenelg River. Nestled beneath rolling hills and grand old red gums, it is reputed to be one of the oldest inland towns in Victoria. In its heyday it was a thriving town with three hotels, a courthouse, a log jail, stabling for the trooper's horses, brickworks, Chinese market gardens and a depot for Cobb & Co. Harrow today is a journey into living history.

The Harow Sound and Light Show has quickly become a major tourist attraction for the small town. Developed entirely by members of the community, The show sees the town come alive at night as you mingle with characters typical of the 1800's. The Hermitage Hotel (1884) is the starting point.

Heatherlie Quarry

Mt Zero Rd, 14kms north of Halls Gap
Ph: (03) 5356 4381
Open: Daily for viewing

Many of Melbourne's landmark buildings, including the GPO, State Library and Parliament House, were built from Grampians Freestone dug from the former MT Difficult Quarry, famous for it's high yield. Today, extraction of stone is only permitted for repairing buildings originally made from Grampians Freestone.

Historical Centre, Warracknabeal

Scott St, Warracknabeal
Ph: (03) 5398 1182 or (03) 5390 4236
Open: 2-4pm every day except Saturday

The Historical Centre houses a unique collection of early documents, personal possessions and household articles from the district. Housed in the town's first State Savings Bank, the collection makes up the history of a typical Wimmera town.

Horsham Historical River Walk

Barnes Blvd & Hocking Sts, Horsham
Ph: (03) 5382 1832
Open: Daily

Set along the banks of the Wimmera River this leisurely one hour walk takes in a signposted history of Horsham, including the old weir and swimming pool, a number of old bridges, the old tramline and Seeliger's Brewery.

John Shaw Neilson Cottage

Western Highway, Jaypex Park - Nhill
Open: Daily

This restored and relocated cottage was once the home of one of Australia's leading lyric poets, John Shaw Neilson, who spent much of his life working on roads and farms in the Nhill district.

Langi Morgala Museum

50 Queen St, Ararat
Ph: (03) 5352 3502
Open: Weekends 1-4pm

The Langi Morgala Museum houses the Mooney collection of Aboriginal artifacts and district memorabilia. Formerly Carroll's Woolstore, built in 1874, this museum building has been described as "one of the most elaborate and sophisticated woolstores to be constructed in the 19th century". Originally designed as a wool and grain store, the Federal Government took it over in 1942 to function as a military foodstore. It subsequently served as a parachute manufacturing factory before the Ararat and District Historical society took it over in 1970.

Natimuk Heritage Trail

Ph: (03) 53 821 832

Pick up a brochure detailing the early history of Natimuk and outlining significant points of interest through this unique historical town. Learn about Natimuk's colourful past and interesting contemporary history, Brochures available from most Natimuk businesses and the Horsham Visitor Information Centre.

Pleasant Creek Courthouse Museum

46-48 Western Hwy, Stawell
Ph: (03) 5358 2380
Open: Wed-Fri 2-5pm

Built in 1860 the building was used for all courts until the building of a new courthouse 20 years later. It now houses all the memorabilia and records of Stawell.

Pleasant Creek Historic Precinct

52 Western Hwy, Stawell
Ph: (03) 5358 2314

This precinct is the centre of the old township of Stawell. Self-guided walking tours of historical sites in the original township of Pleasant Creek, includes gold discovery, monuments, and police barracks.

Seppelt Great Western Winery

Western Hwy, Great Western
Ph: (03) 5361 2239
Open: Daily 10am-5pm; tours Mon-Sat at 10.30, 1.30 and 3pm, Sundays only during Victorian school and public holidays

The birthplace of Australia's greatest sparkling wines, Seppelt Great Western Winery houses one of Australia's national treasures, an intricate system of tunnels dug by goldminers in the 1860-70's for cellars. Known as 'the drives' they house thousands of premium sparkling wines and are used as much today as when they were first excavated.

Serviceton Railway Station

Serviceton was established after the Victorian and South Australian governments decided to build a junction station midway between their capitals, when the broad gauge railway line was being built (completed in June 1886). Named after Sir James Service, a former Victorian Premier, Serviceton was gazetted on January 1, 1887. The township was to house and cater for Railway employees to enable them to work within their own states.

The cost of the classified three level building was to be equally shared by Victoria and South Australia. It was constructed of Horsham made bricks on the then 'disputed territory' and completed in 1889. Following the surveying of the border it was discovered that there was a discrepancy of up to approximately 2km wide extending from the Murray River and to the coast in the South. Both the Victoria and South Australia claimed this area of land to be theirs. The dispute was finally settled in 1914 in Victoria's favour.

The station completely closed in 1986 and since then has been voluntarily operated by a committee of management to maintain and preserve it's valuable history. Tours may be arranged through the general store or post office.

Stawell Gift Hall of Fame

Main St, Central Park, Stawell
Ph: (03) 5358 1326
Open: Weekdays 9am-11am; Weekends by appointment

Houses the history of Australia's best known foot race with film, photographs and equipment covering over a century of memorabilia. Close by are the Central Park Gates, designed and built at the local foundry in 1903 to commemorate district men who went to the Boer War. It is the entrance to Central Park where the Stawell Gift has been run since 1898.

Water Tower Museum

Opposite the railway station in Comyn St - Murtoa
Ph: (03) 53585 2254
Open: Sundays 2.00pm - 5pm

The Water Tower was built in 1868 with a capacity of around 182,000 litres and stands at 12.8m high. Today it houses an excellent collection of the district's memorabilia and is also home to a taxidermy collection of over 500 birds.

Wheatlands Warracknabeal Museum

Henty Hwy -Warracknabeal
Ph: (03) 5398 1616
Open: Sundays 2.00-5.00pm

Wheatlands Agricultural Machinery Museum has the most comprehensive collection of farm machinery in Australia and is dedicated to the collection, restoration and display of agricultural machinery used over the past 100 years, with particular interest on the wheat industry.

Wheaton's Store

Situated at Miriam, just 10km from Kaniva
Ph: (03) 5392 2418

A step back in time, this old fashioned store has been trading for over 100 years.

Wimmera Mallee Museum

Charles St -Jeparit
Ph: (03) 5397 2101
Open: Mon-Fri 9.30am -12noon & 1-4pm; Weekends 1-4.30pm

Located on four acres of land adjacent to the Wimmera River the Wimmera Mallee Pioneer Museum is run by volunteers and displays historical articles and machinery of the areas past, in sixteen historic early buildings.

Yurunga Homestead

Rainbow

Overlooking the town and fields of Rainbow, is the National Trust classified Yurunga Homestead (1910), a mansion built in the heady days of Federation. Other notable sights include Pasco's Cash Store (1928) and 10kms outside of town at Lake Hindmarsh an historic fisherman's hut.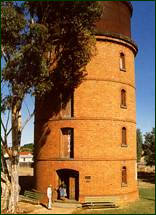 The Water Tower Museum - Murtoa