Great Western is the focal point of one of Australia's internationally renowned wine growing regions and one of the Victoria's most attractive wine villages. A highlight of any visit to the village is the 'drives', a remarkable series of underground cellars. Explore the village with it's great old buildings, churches, the lock-up and toll-gate.

History

This famous town was settled in the 1840's by sheep graziers and rapidly developed through the discovery of gold and the planting of grape vines. Great Western vines were first planted in 1863.

Things to Do and See

Seppelt Winery has a long and rich history. Today, the Seppelt Great Western Winery is best known for its sparkling wines and it's historic "underground drives". These heritage listed tunnels, three kilometres in all, are unique to the Southern Hemisphere and are regarded as a national treasure. They were built by out of luck goldminers in 1865. Visitors to the winery can take a guided tour through the drives where they see row upon row, tunnel upon tunnel of premium sparkling and table wines, quietly maturing at a year round temperature of 16 degrees Celsius. Another of the historic highlights of the area is a visit to the 'slab hut' of Best's winery.

Other Points of Interest

Wine Village Collectables- Western Highway.

Garden Gully Winery- Wattle Gully Rd.

Pottery- Wattle Gully Rd.

Historic Walking tour.

Events

Great Western Champagne Races- Australia Day.

Country Life Festival at Seppelts Cellars- January 24.

Arabian Horse Show- January 26.

January Rodeo- Easter.

Bush Racing Carnival- November.

How to Get There

Great Western is 219km north-west of Melbourne.
Melways Ref: 520 F11
Pop: 250

Visitor Information

Stawell and Grampians Information and Booking Centre
50- 52 Western Highway, Stawell. Vic. 3380
Ph: 03 5358 2314
Freecall: 1800 246 880

Back to Top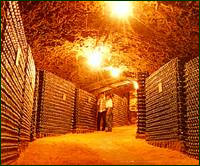 Seppelt Winery has a long and rich history.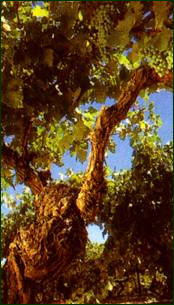 An original Great Western vine,
planted in 1863.