Ararat is a former gold town located on the eastern side of the Grampians. The city features a number of impressive buildings with interesting histories, including the notorious J Ward, once the home for the criminally insane. The city and surrounding areas are renowned for their fine merino wool and more recently as producers of some of Victoria's most celebrated wines.
History

In 1840, after 11 months of droving cattle and sheep from the Murrumbidgee to the Grampians, Horatio Spencer Wills camped near a large bald mountain which he named Mount Ararat. Other squatters soon followed, quickly establishing the districts fame for breeding merino fine wool.

In 1854 gold was found, but it was in May 1857 that the big rush began. Within a few weeks, upwards of 20,000 people were camped on the site of Ararat. In one period of 3 months, over 3 tons of gold left the district by official escort.

The gold ran out in the 1860's, but the Mount William goldrush of 1900 heralded a new mining revival which pushed up Ararat's permanent population to 4,000. Several buildings are now classified by the National Trust. The city was proclaimed in 1950.
Things to Do and See

At the heart of Ararat is the historic and picturesque Alexandra Gardens featuring a walk-in fernery, ornamental lake, and their renowned Orchid Glass House.

The Ararat County Gaol, or 'J' Ward' opened in 1861 as a country gaol equipped with gallows. This infamous bluestone complex was taken over by the Ararat Mental Hospital as 'J Ward', to house the criminally and dangerously insane. Tours include a visit to the memorabilia collection which documents the history of penal and psychiatric reform in Ararat.

Walk back in history with a visit to Canton Lead, a rich goldfield discovered by chance by a one of 700 Chinese miners in 1857, who were just passing through. The site has been landscaped as a memorial park to Ararat's early Chinese migrants.

Greenhill Lake, 4.5kms east of Ararat, is a peaceful and relaxing environment, that provides for swimming and boating activities. The lake covers 217 hectares and supports an abundance of wildlife and attracts anglers from all around for it's large trout.

Other Points of Interest

The Ararat Gallery, among other things, contains a specialist collection of fibre/textile art.

One Tree Hill Scenic Lookout offers superb 360 degree panoramic views of the area surrounding Ararat.

The Langi Morgala Museum houses the Mooney collection of Aboriginal artifacts and district memorabilia. Formerly known as Carroll's Woolstore, this museum building was built in 1874 and has been described as "one of the most elaborate and sophisticated woolstores to be constructed in the 19th century". Originally designed as a wool and grain store, the Federal Government took it over in 1942 to function as a military foodstore. It subsequently served as a parachute manufacturing factory before the Ararat and District Historical society took it over in 1970.

How to Get There

Ararat is approximately 202kms north-west of Melbourne
Melways Ref: 526 E2
Pop: 12,000

Visitor Information

Ararat Visitor Information Centre
Town Hall Square, Barkly St,
(PO Box 246), Ararat, 3377
Ph: (03) 5352 2096
Freecall: 1800 657 158

Click Here to View Map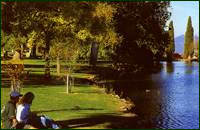 The Alexandra Gardens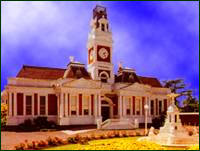 Ararat Town Hall.